Consignor's Guide
Consignors DO NOT pay a consignor fee! It's free & easy to learn how to consign with Lil' Badger Consignment Sale, LLC. You have nothing to lose! So start cleaning out your closets and preparing for our Fall Children's Consignment Sale September 21-23, 2017.
How-To-Guide to Consigning:
Step 1: Get Your Consignor #
Click on
NEW CONSIGNOR
to get your personal consignor number. Your personal consignor number allows you to log in to our consignor homepage so you can register your items and sign up for volunteer opportunities at our children's consignment sale.

Click
CONSIGN
to get to our consignor homepage & begin to register your items for our upcoming sale.Step 2: Decide What to Sell
1. Get organized! Don't wait until one week before our children's consignment sale to gather your potential sale items. Start separating clothes, toys, baby gear, children's athletic equipment, etc. in anticipation of our sale.

2. Make sure the clothing & items you want to sell are in great shape. We will gladly accept gently used items free of smoke & pet odors. Put new batteries in electronics. If batteries are required, you must include them! Wipe off any accumulated dirt & dust from the garage or basement. Play sets, bikes, strollers, high chairs, swings, and sports equipment, etc. must have ALL working parts securely attached and must be assembled on site. Just a reminder, we will not sell incomplete, broken, stained and/or ripped items. [Please revisit our
Consign
page for more information.]

3. Please donate or give away items that do not meet Lil' Badger Consignment Sale standards. Remember, ALL items will be inspected for quality by designated volunteers. This is OUR community sale - let's make it a great one!

4. Start hanging CLEAN pressed clothes on hangers, bind similar books together, place toys with little parts in clear plastic bags, tie shoes together with a ribbon or place them in clear plastic bags. If you have the original box or price tag - use it! Well presented items typically sell more & at a higher price. See Tagging Guide below for more details.
Step 3: Prepare Your Items for the Sale/Tagging Guide
1. Please price your items to sell! Use the Pricing Guide below for assistance. We encourage you to sell any unsold items at the 50% Off Sale on Saturday. You will earn more money this way & you will have less to pick up after the sale. If you are interested, unsold items can be donated after the sale to our local charity. (If you plan to donate unsold items you might as well try to sell them at the 50% Off Sale.)

2. Clothes should be on plastic hangers. Please do not use wire hangers because they can snag & destroy clothing and they get tangled in the racks. Ask around, many local retailers throw away their plastic hangers and are very willing to give them away. Contact us at info@LilBadgerConsignmentSale.com if you have trouble locating plastic hangers for your consigning needs.

3. When you are looking at your garment, the hanger should be positioned so it looks like a question mark ? and consignor price tags should be pinned on the RIGHT shoulder. Use safety pins (not straight pins) to adhere your price tag to your garment. A piece of clear mailing tape over the safety pin gives it added security. Remember, items with missing tags cannot be sold. Use clear mailing tape to adhere your consignor price tags to toys, books, strollers, etc., and be sure the UPC symbol is visible for a quick & efficient check out.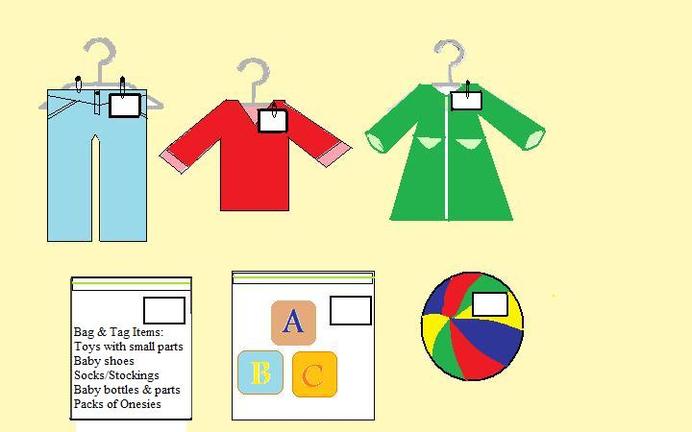 4. Consignor price tags can be created once you've logged into our secure site and registered for your consignor number. You can click on
NEW CONSIGNOR
now to get your personal consignor number. Click on
CONSIGN
now to get to our consignor homepage & begin to register your items & create price tags for our upcoming sale. Just a reminder: You must use light colored CARD STOCK to print your consignor price tags. The NORMAL print setting will create the most legible consignor price tags. Do not resize the tags.

Here are some of the on-line steps to create consignor price tags: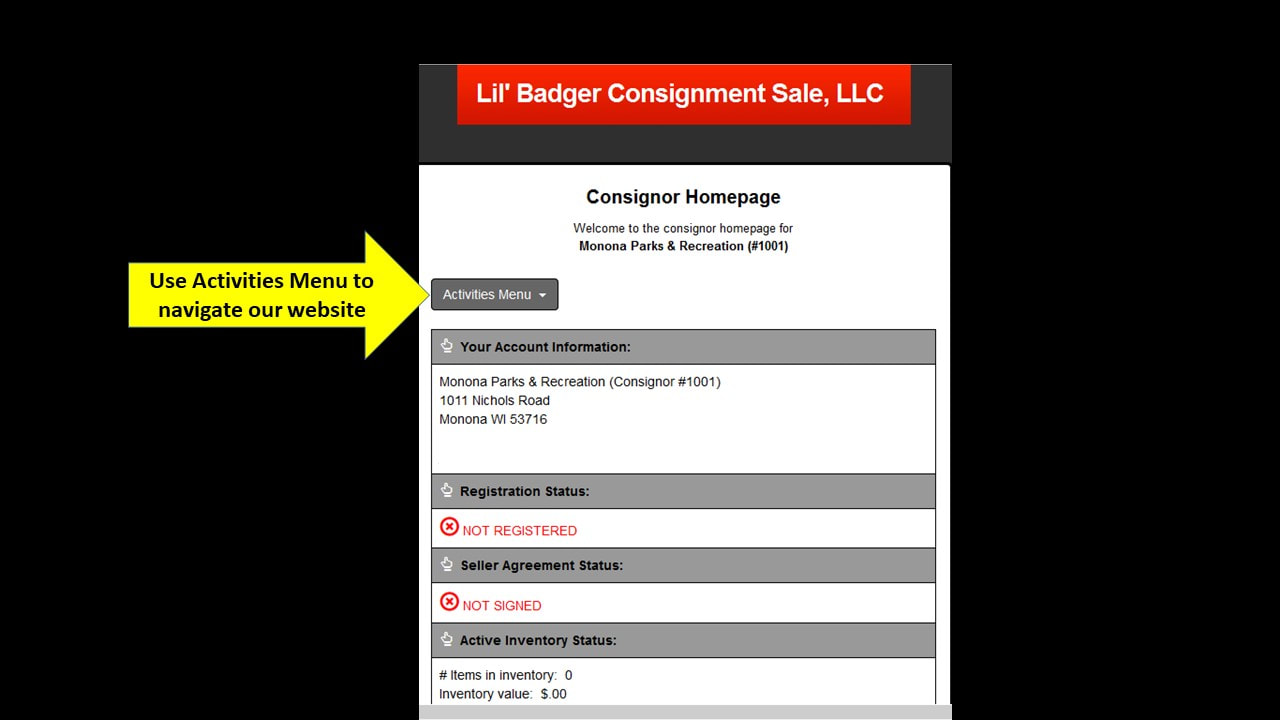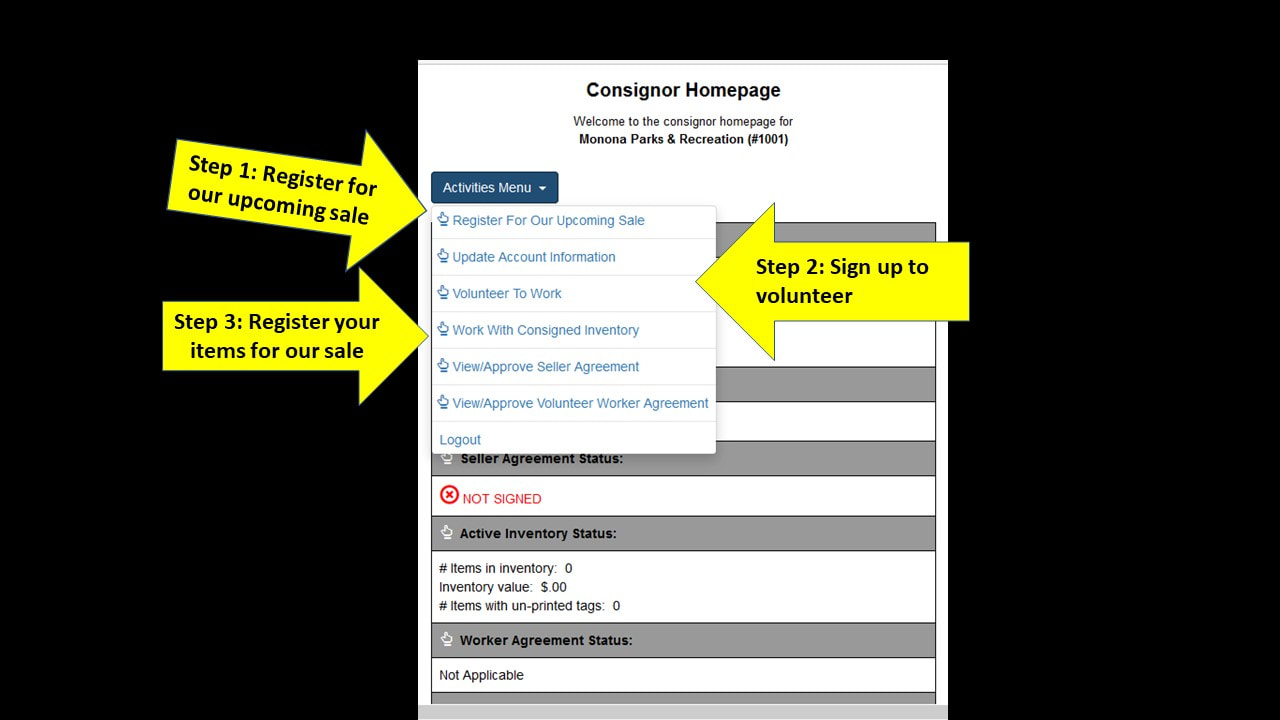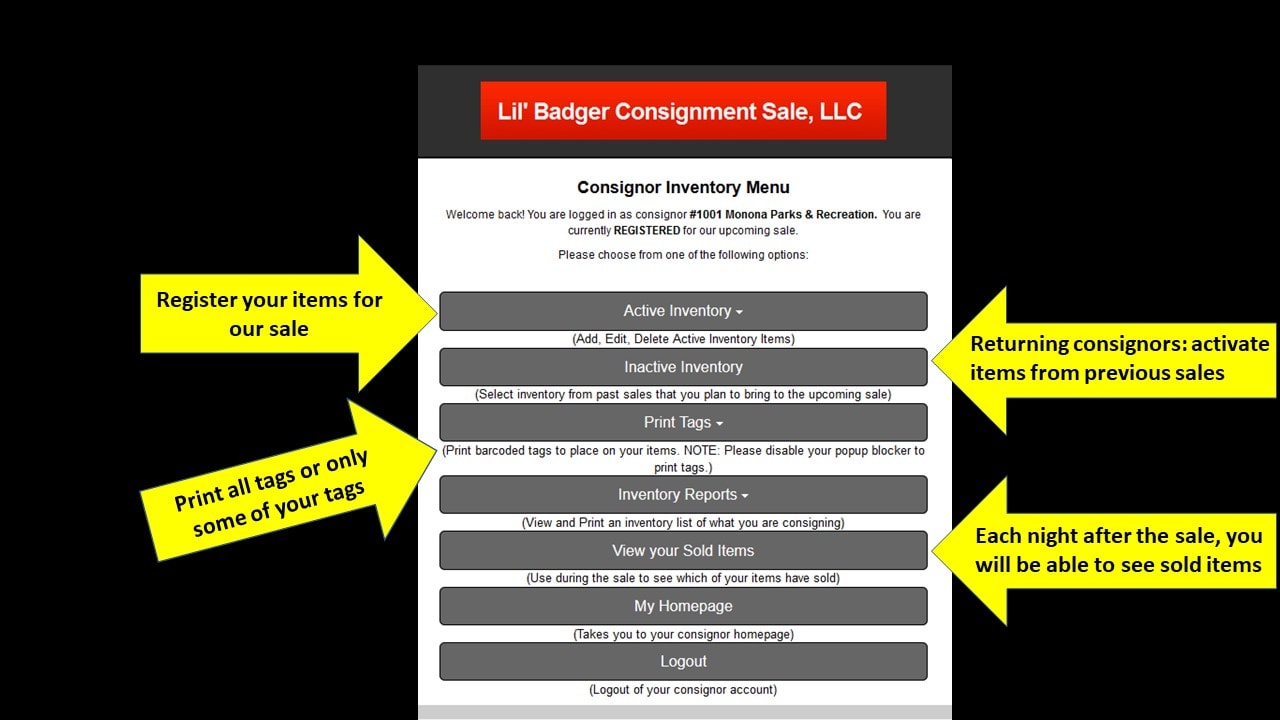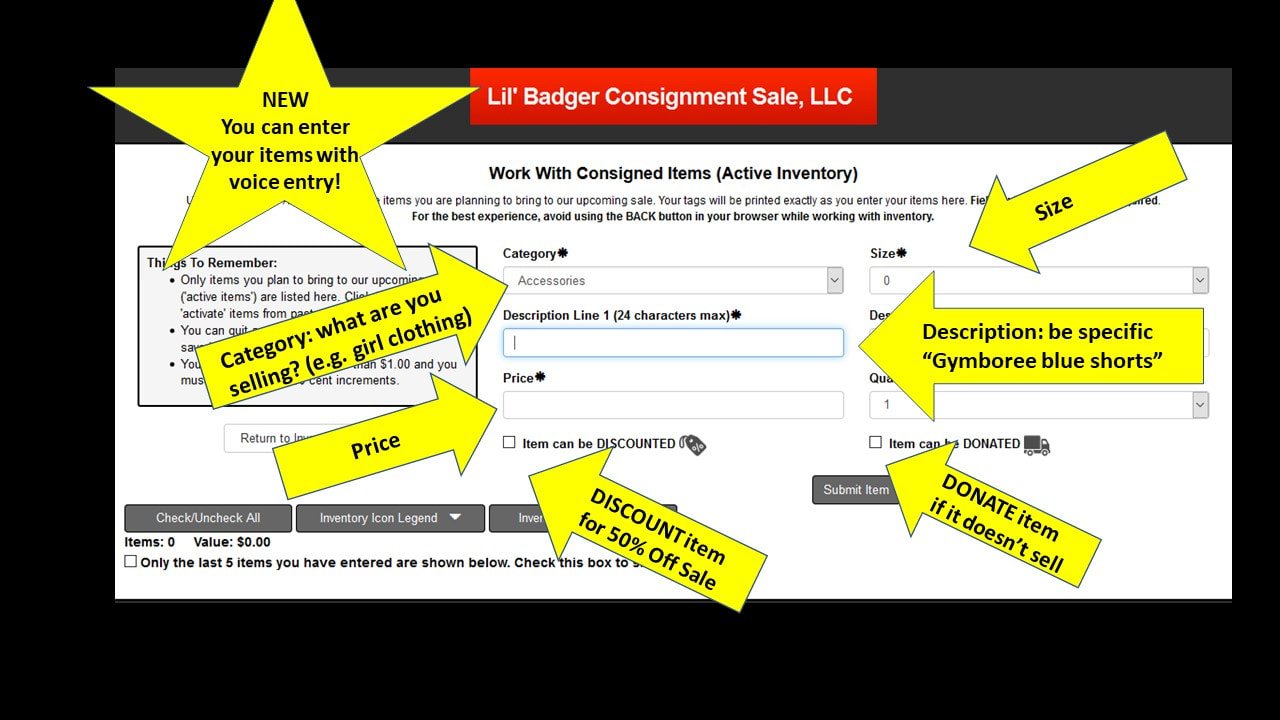 This is what a Lil' Badger Consignment Sale price tag looks like when printed.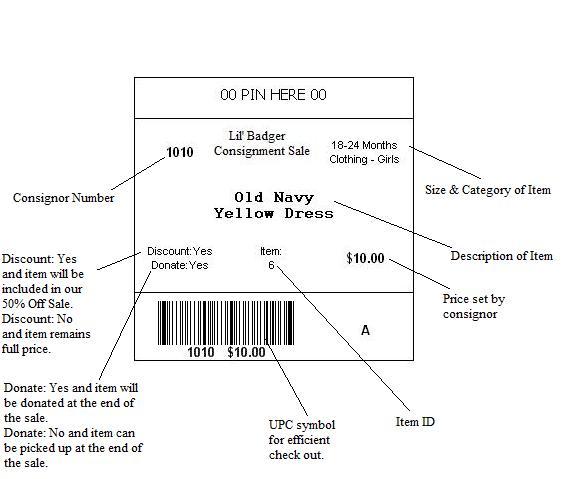 This is what Lil' Badger Consignment Sale price tags should look like when printed on light card stock and securely attached to consignor items.

Pricing Guide
This is a pricing guide only. Consignors, you determine the price you want to sell your items at. Price them to sell! Please note: consignment prices are usually ¼ to ½ of the original retail price depending on the quality and presentation of the item.
Mark down your items for the 50% Off Sale on Saturday if they have not sold for full price during the first two days of the consignment sale. Any unsold items can be donated to our local charity at the end of the sale, or pick up your unsold items at the designated pick-up time on Saturday and store them & resell them at our next Lil' Badger's Consignment Sale.

Something to consider: if your item did not sell at this sale, please consider reducing the price for our next Lil' Badger Consignment Sale.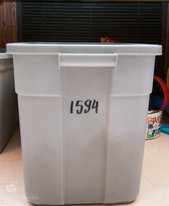 Step 4: Item Drop Off
1. Click HERE to Register for your Drop Off Appointment time.

2. Please sign your online Consignor Contract & Volunteer Contract (if you will volunteer).

3. Sign in when you arrive at the Monona Community Center for your scheduled Drop Off Appointment. If you do not intend to donate your remaining items at the end of the sale, please drop off a large plastic bin (no lid) with your consignor number posted on it . This will allow for an efficient pickup process.

4. Please be on time for your Item Drop Off Appointment and allow our designated volunteers time to inspect the quality of your items prior to placing them on the selling floor. It may take upwards of 45 - 60 minutes for the entire process. As stated before, please do not be offended if your item is not found acceptable for the sale and is returned to you. We strive to provide the best quality items so our community sale will be a success.

5. It is your responsibility as a consignor to get your items on the selling floor in the designated locations. We will have a small amount of racks on wheels and volunteers to assist you in placing your items on the selling floor, but it may be necessary to bring a wagon or an extra pair of hands to help you with the process. Note: this process is easier without small children.We encourage you to volunteer at our sale. The biggest benefit to volunteering at our sale is you get into the PreSale before the general public & consignors. Sign up for two volunteer shifts and get in even earlier! Plus, 8 hour volunteers are invited to shop the $1 Sale. Please see the Volunteer Page for more details. Volunteers help make our sale a success - we appreciate your support & enthusiasm! Great Customer Service = More Sales = More $$ for Consignors.

We also encourage you to shop our sale and tell everyone you know all about it! Support the Monona/Eastside Madison community sale. The more people who know about Lil' Badger Consignment Sale, the more successful it will be, the more money for individual consignors, and the more money donated to Monona Parks & Recreation's Youth Scholarship Fund. Lil' Badger Consignment Sale, LLC appreciates your support!
---